When:
Thursday, May 11, 1972
Where:
Grote Zaal De Doelen, Rotterdam, Holland
Setlist:
(In order of the released CDs)
Playing In The Band, Sugaree, Mr. Charlie, Black-Throated Wind, Deal, Chinatown Shuffle, Mexicali Blues, China Cat Sunflower > I Know You Rider, Hurts Me Too, Beat It On Down The Line, Brown-Eyed Women, Jack Straw, Big Railroad Blues, Good Lovin', Casey Jones
Morning Dew, Me & My Uncle, The Stranger (Two Souls In Communion), El Paso, Tennessee Jed, Next Time You See Me, Dark Star > Drums > Dark Star > Sugar Magnolia > Caution (Do Not Stop On The Tracks) > Truckin', Uncle John's Band
As always, my
personal highlights
are bolded.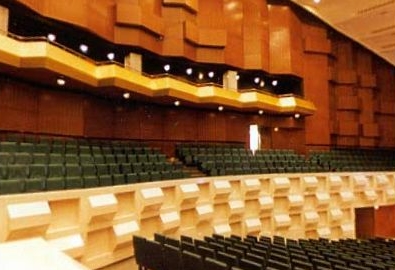 Built in 1966, the ultra-modern ambiance of Grote Zaal de Doelen contrast
the majesty of Concertgebouw or Musikhalle, played in over the fortnight.
Off in Rotterdam, the Dead kept on rockin'! As Blair Jackson writes in the liner notes, "All you really need to know about this Rotterdam concert is that it was former Grateful Dead vault-keeper Dick Latvala's favorite show from the Europe '72 tour." True, but as
you
know by now, I've got plenty more descriptive words for the music! The hall holds about 2200 people, and it was rebuilt in 1966 after the original hall was destroyed in WWII. In 1966, it was a picture of modernity, and on May 11, 1972, the Dead turned it into a space-ship dance hall with a performance for the ages.
The "Playin'" opener sets the bar high for the first set with some intense, dark jamming. Jerry seems like a man possessed in parts, and the rest of the band is right there with him. The whole first set is quite good, but the band really hits their stride during "China" > "Rider." The jam out of "China Cat" is vibrant and light, and the transition's got all the energy you could ask for. "Rider" feels a bit laid-back, bringing the pairing to a poppin' close. They follow it with a textbook version of "It Hurts Me Too" in which Pigpen delivers the lyrics perfectly, and Jerry's slide guitar is subtle and accurate. "Good Lovin'" is the best part of the set to me, and again it's unique and delightful. Early on the jam has a swampy feel to it, but Jerry's guitar tone is crisp and clean - a very nice juxtaposition! Pigpen also brings his own cognitive dissonance, singing his raunchy hallway rap with a clam, melodic voice. I'll bet you can't guess what song they decided to close the first set with....
Not sure if this one's from Europe, but at least we know that's Jerry and Bobby playing the guitars!!
The second set starts with the first "Morning Dew" of the tour,* and you know the Morning Brewer is excited about that!!! This is one of my top-3 favorite songs the Dead played, and it's sweet but imperfect. Garcia stumbles on the vocal at the end, but overall it's stupendous. I'll take as many versions of this song as I can get my ears on!! It's followed by a very fast rendition of "Me & My Uncle" that rocks hard with great contributions from Keith and Billy. "The Stranger" follows, and Pigpen delivers. To me this version is quite different from the one from Frankfurt, with the band following Pigpen's lead in sounding more forceful than lamenting. He starts with what almost sounds like a lilt to his voice, and while Jerry doesn't push the feedback envelope quite so hard as Frankfurt, he certainly takes it there. I can hear anger creep into Pigpen's voice during the "What is the secret?" verse and explode as he begs to "ride on them wings of love, one more time" and as he asks for some companionship at the tail end. Phil and Keith make excellent contributions on the climax, and all around it's a phenomenal rendition.
If Bickershaw's "Dark Star" was right out of 1969, Rotterdam's is all 1972!! The tempo is moderated a bit, and Jerry's tone is a bit more refined, with depth and clarity from the start. Phil challenges him early to take the jam deep - as Keith and Bobby seem to musically whisper, "Do it, do it" - but Jerry pulls up a bit and Phil responds with a new melodic theme, and they're off!! They rarely stray back to the theme of "Dark Star" in this one, but there's no question where this jam originated. Jerry flirts with terror with his tone, but overall the first jam is very melodic, with Jerry and Phil periodically referring to Phil's first idea as a secondary point of reference. The interesting melodic avenues they explore exemplify the era. Almost as soon as they come back to the "Dark Star" theme, Billy takes over and plays an interesting, though measured solo that runs on the longer side for the tour. Phil joins him for a duet that we'll hear plenty of through 1973, but when Jerry steps back into the conversation it's back to business, flirting with the edges of "Dark Star" proper. Jerry's thick tone gives an air of dangerous vulnerability, and the band coalesces around a momentary eruption before Jerry steps up for the first verse about 25 minutes from the beginning of the song. Did I mention this is the
longest
version of "Dark Star" on the books?
From the same show as the shot above.
Let's pretend they're both from Rotterdam.
After the vocals, they're ready for a spacey jam that pushes away structure and embraces haunting tones and rhythms. At one point, Bobby asserts himself like a dagger in a dark alley, waking up Billy and sending the entire jam on a frantic chase through the canyon between dissonance and melody. The band reaches the plateau, frantically trying to keep up with Phil and Billy. The jam from here on out is a serious of suggestions for the next song coming from all corners, mixed with intense jams both fast and slow. Please excuse me if the rest of this paragraph reads like a beer (or wine) review, but listening to it is as fascinating as drinking a Within the next two-and-a-half minutes, I hear different instrumental voices suggesting "Sugar Magnolia," "I Know You Rider," "GDTRFB," "Lovelight," "Playin'," "Bird Song," and "Caution." Phil bounces along, sticking with the up-tempo jam, and Pigpen's organ plugs along as a they sink into a new melody where Jerry's tone and quick playing remind me of "El Paso.," but he quickly takes it on a dangerous run down to the precipice. Soon, the rugged, rhythmic playing sounds like they're about to return to "Caution," but Phil pulls up. Jerry's guitar screams his disapproval, and they seem ready to turn full-on into "Truckin'," but Phil won't let the jam go!! More suggestions of "Wharf Rat," "Bird Song," "Comes a Time," maybe even "The Other One" (but that's probably a reach). No one can deny Bobby's loping introductory chords to "Sugar Magnolia," though, and we're finally out of "Dark Star!!"
"Sugar Mags" is fantastic, with Jerry rocking some clean tone that screams during the exceptional climax. Before long, they've come back to "Caution" with that thumping, charged rhythm. Just to mix up the intro a bit, Jerry finds a pleasant space to tease the melody from "There's a place in France..." (or something equally silly). By the time Pigpen works through the vocals, Jerry hints at "The Other One," but Pigpen jumps into a new rap, turning Jerry back to the blues (though still in the Other rhythm). We're then treated to a message from Pigpen's inner wandering workingman:
I got so many chil'n I don't know what to do.
I did a good job on my old lady
Man I don't know about you.
But if you need it, get movin',


If you need it, get movin'.
A few more hints of "The Other One," but the jam signals that "Caution" is here to stay. And it's a classic: funky and bluesy with a hard, hitting beat. Before long, Pigpen is back at his organ, painting shades in the sonic landscape. Billy breaks it down as the guitars and piano go quiet, and Pigpen steps back up to the mic. The band swells behind his wanderings, and after a bit Pigpen proclaims, "Expeditionary, folks, it's on a four-day creep." After some more "Caution" jamming, they turn the corner for the final performance of "Who Do You Love?" Just as short and nasty as Copenhagen! The jam returns to "Caution," but it's short-lived.
From there, however, they're off to the land of "Truckin'." Bobby's voice sounds fatigued, but the band is energetically bounding around the room, with great contributions from Pigpen on the organ. The jam is excellent, but it ends rather abruptly. But can we blame them? They've been jamming hard for 82 minutes straight!! They seem to know they won't make it back to the stage for an encore, so they just jump right into "Uncle John's Band" to extend the show and say farewell. Incredible!!
Worth mentioning:
This is easily the fastest version of "Mr. Charlie" I've ever heard, and I like it!!
"Deal" on the other hand is quite slow, but it's still really well played.
I would have talked about the "Brown-Eyed Women" in the show review, but Jerry flubbed the opening lyric. Too bad because otherwise it's perfect.
Great versions of "Jack Straw" and "Big Railroad Blues," too. Nice vocals, very good guitar licks, especially on the latter.
I could say everything I said for "Me & My Uncle" (played hard and fast) in describing "El Paso." I've got to tip the cap to Jerry in particular here, though Keith and Billy are excellent, as well.
Song of the Day: "Morning Dew"
The Dead's rendition of "Morning Dew" appeared on their eponomously named debut album, played far faster than the version from Rotterdam. Mostly, the Dead's arrangement has focused on Jerry's vocal delivery and the slow, steady theme erupting into a mad crescendo towards the end. As noted above, this is one of my favorite tunes the Dead played, and my absolute favorite versions from their respective eras are from
Barton Hall 5/8/77
,
MSG 9/18/87
, and
Harpur College 5/2/70
.
The song was written by Canadian folkie Bonnie Dobson in 1961, after a particularly moving late-night conversation she had with friends in L.A. about nuclear war. She describesthe story like this to Blair Jackson in a letter for her book
Goin' Down the Road
: "It took the form of a conversation between the last man and woman - postapocolypse - one trying to comfort the other while knowing there's absolutely nothing left." A critic described its first public performance as "a mournful dirge," but it was recorded numerous times before the Dead sunk their axes in it.
The resulting turns of phrase - about a baby that can't be crying, the people who are all gone, a young man mourning, and of course an impossible walk through the morning dew - contrast some of the most intense images of human life with the impossibility of their continued existence. In some of the Dead's versions you can hear Jerry's voice crack with the strain of emotion, but the way he fans the strings of his guitar as the climax builds into an unfathomable explosion is what sets this one apart from all the other Jerry ballads.
Dobson made this additional note of the Grateful Dead's version:
I always like the Dead's version of "Morning Dew." My one regret is that when they first appeared in Toronto - was it in 1967 or 1968 at the O'Keefe Centre? - they didn't sing "Morning Dew" in the concert I attended. I also regret that i was too shy to go backstage and meet them.
Don't we all.... But at least you can claim credit for the genesis of this stirring and incredible piece of songwriting. We Deadheads thank you!
Alternate Topic
I haven't been able to follow baseball very closely due to work and travel, but I've been trying to catch up a bit after hearing of all the craziness this past week or so. Before I do a quick rundown, though, I need to say that for the first time since I moved to Philly, I now
expect
the Phillies to give up late leads to lose ballgames. I know this has been a standard Philly thing for much of the lives of most of the city's residents, but it's a first for me. Do I wish I hadn't expected them to win 93 games? Of course, but that comes with the territory of making preseason predictions! That being said, I think they'll be getting Chase Utley back in the foreseeable future, they'll pull it together enough to be in the conversation down the stretch. How prominently they feature in that conversation is another story. With that, play ball!!
After pitching 10 scoreless innings the week of my last baseball rundown, Cliff Lee went on the disabled list with a strained oblique. He's back and pitched well against New York the other night. But the bullpen gave it up, just as I expected!
Cole Hamels knows better now, but just in case any readers didn't, here it is in black-and-white: Pitchers throwing at batters is acceptable, but there has to be a reason. It doesn't have to be a good reason, you just have to think it's a good idea. That means you'd better be ready to throw down, or suffer other consequences (good for you Bryce Harper, way to learn from your mistakes). If the pitchers' obvious the umps will give you a warning before they do anything, but try not to make it obvious. So unless you already got tossed/suspended you never say you wanted to "welcome him to the league." Your just asking for a suspension.
Two no-hitters again this year?!?! Surprising, but I had no idea how rare Josh Hamilton's 4-HR game was. More rare than a perfect game!! Josh Hamilton is as good as it gets, folks.
Elvis Andrus was on base for each of Hamilton's homers. That's why it's ok to take a strike; unless you're Josh Hamilton, it's easier to score from one of the bags.
The same day as Jared Weaver's no-no, AJ Bernett posted an absolute stinker when he threw 72 pitches to retire just 8 batters, earning him the following line: 2 2/3 IP, 12 H, 12 R, 12 ER, 1 BB, 2 K, 2 HR. OUCH!
Baltimore Orioles first baseman Chris Davis didn't do much at the bat to support his pitchers with his bat (4 Ks and a double play) over 17 long innings, but his two innings of scoreless baseball to earn the win is a feat!! (Even if it was the first time in over a century a position player from each team ended up with the decision.)
Baltimore is 7.5 games up on Boston in the first half of March?!?! Is Jim Palmer pitching?
Congrats for Jamie Moyer for getting his first hit as the oldest-dude-ever-to-be-able-to-pick-up-a-baseball.
It's still early out West in the NL, but those Dodgers are playing good baseball. And Clayton Kershaw can pitch!
Angels 7 games behind the Rangers? Wow!! And you thought Pujols's contract looked big over the winter!!
Pujols went 31 games in without hitting a home run after hitting 3 HRs in a game. The last to go so long was the immortal Roberto Clemente in 1969, and he ended up going 49 games before his next bomb.
First the Marlins started spending big money on free agents. Now Nats are in first and the Mets have won 5 in a row coming off bringing their brooms to Philly. It's a new day in the NL East!
- Morning Brewer
PS (Pairing Suggestion):
I had been planning to pair this show with the fantastic Belgian/French style, the Grand Cr
ü
, but I came across a fascinating article today about the beers of Rotterdam during the German occupation. That being said, the "Dark Star" from this show inspires me to feature a dark beer, so please read on. For the commentor who had suggested the funky brew from Rodenbach, don't despair! I
will
be featuring the Grand Cr
ü
shortly, as I've been drinking a few examples by way of research.
An article by Ron Pattison (beer historian and Rotterdam resident) in the most recent issue (#64) of the print magazine of
Beer Advocate
chronicles the "Dark Days for Rotterdam," when Holland was under German occupation. Serious restrictions on grain drastically decreased the potency of beer, and brewers insisted upon retailers serving only the unpopular dark lager (instead of pilsner and light lager) one day of the week. Pattison puts the crisis in perspective:
Dark days? I'd have thought having the city center blown to buggery was slightly worse than having to drink Dark Lager one day a week. [Note (from Pattison): I'm not sure how to translate "eenheidsbier" - "standard beer," perhaps. Literally, it means "unity beer."]
However, many people live their lives through beer, so dark days indeed.
Which brings me to the beer.... There are several varieties of dark lager, but they're all significantly dark with varying levels of roasty, chocolatey, and nutty flavors.
The

American versions

tend toward the medium-bodied side and range from dark brown and mild (

Shiner Bock

) to dark and roasty

(

Dixie Blackened Voodoo)

to strong and hoppy (

Seventeen

).

The

Munich Dunkel

version features the bready and caramel-icious flavors of Munich malts, giving authentic versions (

Ayinger

,

Paulaner

, or

Hoffbräu

) more heft than their

American counterparts above. However, Americans have made excellent examples, though they're hard to find (

Gordon Biersch

or the oak-aged version from

Harpoon

are worth a try

).

The Bavarian Schwartzbier is very dark (though rarely jet black) and typically has a moderate roasty flavor that is not prominent. It's body and dryness is reminiscent of a pilsner, but the color is darker than the Munich Dunkel version. Authentic versions from Bavaria (Köstritzer, Mönchschoff, or Einbecker) are relatively easy to track down, but American versions (Sam Adams, Black Radish

and

Sprecher Black

)

are a bit easier to find.
These are all easy-drinking beers, so pair this show and a dark lager with some delicious mussels and crusty French bread to dip in the broth.
---------------------------------
* In fact, the last time the Dead played "Morning Dew" was nine months prior on 8/6/71 at the Hollywood Palladium, the night of the incredible "Hard to Handle." That would also make this Keith's first performance of the song, as he made his GDebut on 10/19/71 at Northrop Auditorium in Minneapolis at the University of Minnesota.