When:
Friday, April 21, 1972
Where:
Beat-Club, Bremen, West Germany
Setlist:
(In order of the released CDs, can't find an AUD stream, but looks like you can get the .shn files
here
. I linked to the songs that were broadcast below.)
Bertha, Playing In The Band, Mr. Charlie, Sugaree, One More Saturday Night, Playing In The Band, Beat It On Down The Line, Truckin > Drums > The Other One
As always,
personal highlights
are bolded.
This 80-minute set was recorded for the German rock 'n' roll TV show
Beat-Club
, which aired one or two songs from the set just after the Europe tour ended. The fact that the Dead played an entire set indicates to me that they were thinking, "If we're going to make the trip all the way to Bremen, and the crew is going to set up all our equipment, we're going to give them a show so they feel like it was worth the effort!!" The result is a compact set with vast exploration in more than a few parts, and the nearly unheard-of mulligans and a total repeat. Like a studio session, but different. Way different!
At the Beat-Club in Bremen, 4/21/72.
The "Bertha" is very strong, despite Jerry missing on a few vocal lines. "Mr. Charlie" is as good as it gets, and the "Sugaree" is succinct and inspired. It better be: Jerry has to start over after
someone
plays the wrong changes! Then comes a
second
version of "Playin'" that Bobby takes issue with, introducing it as a "600,000-watt, clear-channel voice of treason." When he opens the lyric with, "Some folks trust in
treason,
" it's too much for someone (I'm guessing Jerry), and they end up taking another mulligan.*
They end up re-starting the "Truckin'" as well because Bobby can't remember the words (surprise!), but Jerry leads us in an incredible instrumental section that falls into a quite interesting and energetic jam. Billy treats us to a quick drum break, and then the goods get delivered, courtesy of Mr. Philip Lesh. He drops the intro like a ton of bricks and proceeds to juggle the lead in perfect counterpoint to Jerry. This one is
FAST
for about five minutes until the jamming eases up long enough for Bobby to squeeze in the first verse. About 12 minutes out of "Drums," the band is exploring the mellow hinterlands of jam, bringing it back for a hard-rockin' jam with scorching leads from Jerry and power-chord bombs from Phil. Several minutes later, we get the ethereal release, and eventually a melody emerges. They play around with it as if to consider another song ("Uncle John's Band?" "Wharf Rat?" "Sugar Mags?"), but alas they are out of time. They stop playing for a few seconds before returning to their instruments for a cacophonous farewell to the studio in Bremen, surely leaving the recording techs scratching their heads, wondering what these Americans were up to, exactly. Surely they couldn't
really
believe we could air any of that rambling rubbish!
Worth mentioning:
There was no audience at this performance, only the recording studio employees. Considering the band's track record in the studio, they must have brought a bottle of magic for this performance.
Either that, or their nearly 40-person entourage made it feel like they had an audience....
Or both.
Song of the Day: "Playin' In The Band"
"Playin'" grew out of the instrumental exploration aptly called "The Main Ten" for its unusual time signature. Only played five times over twelve months starting on November 8, 1969, "The Main Ten" emerged as a minimally structured theme squeezed into a larger jam that usually grew out of a song like "Uncle John's Band," "Good Lovin'," or "Dark Star." It was a part of Mickey Hart's album
Rolling Thunder
, released while the Dead were on tour in Europe.
Starting in early 1971, Robert Hunter's lyrics were added to the Weir/Hart collaboration, and "Playing In The Band" was released in September of that year on the live record
Skull & Roses
(aka
Skullfuck
).** This version is played "straight" despite the unusual beat, with a very restrained instrumental break. It was almost like they were trying to stretch the confines of commercially palatable song structure, but at just over four-and-a-half minutes it was Dead on arrival. Within a few months of the debut of "Playin'," the band routinely pushed the instrumental section well beyond even the initial, amorphous theme of "The Main Ten" into the depths of space.
The song itself has an ethereal quality, in part due to the continuous, recursive beat in an unusual time signature, typical of Bobby and Mickey. At times the emphasis is on the halting quality of the ten-beat, but at other times the emphasis makes it sound more like a waltz, and at still other times it is closer to a rock 'n' roll standard. This song works because the whole band is comfortable "finding the one" when exploring odd time signatures, but it's Phil Lesh's bass that is most impressive to me. His classical and experimental background in composition comes out when playing this song, as he is able to explore the beat with the rhythm section while still providing melodic counterpoint to the lead once the jam leaves the confines of the song. It's quite an accomplishment to do all of this while never leaving the ten-beat structure. Ladies and gentlemen, the Grateful Dead!!
As the lyrics go, they mesh with the music to bring a joyous expression of youthful enthusiasm. The opening invocation can be interpreted as the Dead's commentary on the political upheaval of the late-1960s and early 1970s:
Some folks trust in reason
Others trust in might
I don't trust in nothing
But I know it come out right
With a few exceptions (like the free concert at MIT on 5/6/70 following the Kent State shootings), the Dead avoided making political statements, particularly in their early years. However, this existentialist expression should not be confused with nihilism; trusting in nothing is not the same as
believing
in nothing. As the verses progress, the philosophy comes more clearly into focus.
I can tell your future
Look what's in your had
But I can't stop for nothing
I'm just playing in the band
Again, it's the joy and youthful enthusiasm that shines through in this verse. Your destiny rests in the palm of your hand, and all you must do is keep doing what you love. From controlling your own destiny, the next verse describes controlling the whole word. Worrying about the details would just distract you from - you guessed it - playing in the band. Oh, and someone's got a problem with this?
If a man among you
Got no sin upon his hand
Let him cast a stone at me***
For playing in the band
In his own mind, the narrator is beyond reproach by virtue of the nifty syllogism that no one is without sin; in a land full of sinners, there is no moral high-ground from which to loft criticisms.
Taken on its own, the philosophy espoused in this lyric could be troubling: pure hedonism with a willful disregard for the tenets of morality or any semblance of duty to society or individuals. As my explorations of the "Song of the Day" throughout this tour have indicated, the larger philosophy (or philosophies) to be gleaned from the Grateful Dead's songs - and Hunter's lyrics in particular - is far more nuanced that merely that.
I interpret this as a snapshot of a moment of excitement and freedom I remember experiencing particularly in my youth, a feeling that is so commonly held to make it nearly universal. This makes sense considering the song evolved over the time when the Grateful Dead were extensively touring college campuses across the country in 1970-1971 and they were musically exploring new genres, song structures, and vocal harmonies. Nowhere is this "snapshot" more evident than deep in second set of the epic show at the Fox Theatre in Atlanta, Georgia on 5/19/77 (released as
Dick's Picks, Vol. 29
). As Tom Van Sant describes in his concert review in
Deadbase IX
(p 319):
[T]here is something mysterious and other-worldly about this song cycle ["Playin'" > "Uncle John's Band" > "The Wheel" > "China Doll" > "Playin'"]. Perhaps it has to do with the vision of Robert Hunter, who wrote all the lyrics in each of these songs. The journey begins normally enough, "Playing in the band, daybreak on the land..." but soon the structure dissolves, the space jam begins, and we arrive at a song evoking images of growth and celebration (Uncle John's), one symbolizing maturity and acceptance (The Wheel), and one describing decay and death (China Doll), making the cycle a microcosm of the life cycle itself. In the aftermath the formless space jam returns, and eventually were [sic] back to reality, the mundane fact that it's just a bunch of singers and musicians Playing in the Band. But, as we all know, it's more.
Well said, Mr. Van Sant! By 1977, "Playin'" was used as an invocation and beginning of the life cycle, owing to the combination of the beat, the lyrics, the song structure, and jam segment that evolved within it. In these seminal performances in Europe, '72 (they played it during the first set of every show on the tour), we can hear the band pushing the limits of the song to both feel out one another and the crowd in anticipation of the second set. These versions also serve as practice for the often-frightening, always-marvellous version from
Veneta 8/27/72
.
MLB Catch-Up
I've been out of the loop on the baseball season, so I spent a bit of time perusing the happenings around the league so far. Before I get into some impressions, I want to call attention to the retirement of Pat Summit, who led the Lady Volunteers to eight national championships in her 38 years as head coach of the University of Tennessee women's basketball team. She has been an incomparable leader and competitor in the game, and she won more college basketball games (1098 to just 208 losses) than Coach K, John Wooden, or any other coach in NCAA history. She was diagnosed with early onset Alzheimer's disease a little over a year ago, and she has chosen to be an outspoken advocate for herself and others suffering from the condition. Stanford coach Tara Vanderveer - who battled her for supremacy in the college ranks for decades before the rise of UConn - called her "a model of class and courage" in a statement trying to capture how she elevated the women's game. Pat Summit is a legend whose departure from the head of the most successful program in college women's basketball history comes all too soon. I wish her and her family all the best in coping with an incredibly challenging disease.
Now play ball!!
I watched the Phillies at Giants the first half of this week, a very fun early-season series. You can tell from the atmosphere in the ballpark that the Giants fans feel they still have something to prove against the incumbent best-team-in-the-NL visitors, even when they're missing their two best hitters. Both teams are offensively anemic and will be relying on their stellar starting pitching to be competitive down the stretch and into the postseason.

However, Tim Lincecum did not look like his old self pitching against Roy Halladay on Monday night. He gave up four earned runs in the first inning, and his fastball topped out around 92 mph. He was throwing a lot more change-ups than in years past, which is likely related to his fastball's velocity in one way or another. Scouts have long expressed concerns over his durability considering his "violent" motion, so keep an eye on him this season. I still expect him to work out the kinks and have a good year, though he isn't likely to win the Cy Young Award after his shaky start.
Roy Halladay is a machine once he finds his groove, and he had an RBI single in the 4th on Monday. If you're going to score, you better do it in the first inning and hope it holds up.
Going into Monday's game, the Giants had committed 14 errors in just nine games. In addition, on Monday there were three more that could have been ruled errors that ended up being scored as hits. On Tuesday, Brandon Crawford committed two errors in the first inning (one charged to the pitcher). Tough to win when you can't catch and throw the ball consistently....
Madison Bumgarner can pitch!! And since he's all that, he better win a matchup with Joe Blanton. And the Giants better hope he's as durable as they expect, or else they have a mini-Zito contract to deal with for years to come.
On Wednesday they played the first six full innings in an hour and wrapped up the ninth in well under two hours. The pitchers averaged a combined 20 pitches per inning through nine, allowing no runs. Flat-out dealing!! Cliff Lee ended up throwing ten scoreless innings on Wednesday night without surrendering a walk (or a run). The Giants took the game (and the series) in the bottom of the 11th, but both starters deserved the win considering the way they pitched.
During the local broadcast on Tuesday, the announcers said Chase Utley was placed on the 14-day disabled list and may rejoin the team as early as late next week or the Phillies. Weird thing is, I can't find any mention of it from any other sources. I'm thinking CSN-Philly dropped the ball on that one.

At the beginning of the week, Matt Kemp of the Dodgers was leading the National League in every offensive category except stolen bases (his teammate Dee Gordon leads that one). It's early yet, so we shouldn't give too much weight to his numbers. However, he was darn close to the elusive triple crown (lead league in homers, RBIs, and batting average) last season. The last player to do that in the NL was the Cardinals' Joe Medwick in 1937, and in the AL it was Boston's Carl Yastrzemski in 1967.
Keep an eye those Dodgers. Hot starts don't always last all season long, but their 9-1 start was pretty hot!! And while we're at it, what about those Washington Nationals? Can they keep this up? Hard to think such a young team will be able to perform like this through the dog days and into September, but their starting pitching is very impressive!
The Rangers are on a tear! Their lineup has been dangerous, but they've come out of the starting gate looking like a well-oiled hitting machine. With the pitching staff they've assembled, they're going to be tough all year if they can stay healthy, and they're deep enough to absorb a couple injuries, too.
Boston still looks like they're dealing with the fallout from last season's September collapse, and I'm not sure if Bobby Valentine has helped his team much so far. On Tuesday against the Rangers, they looked sluggish - particularly Jon Lester on the mound - and they didn't give him much help in the field.
It's hard to imagine, but I think Cody Ross made the fans on the Monster at Fenway wish JD Drew was still shagging fly balls in left when Ross missed a routine pop-up in the second inning, allowing a run to score. YIKES!!
Happy 100th birthday to Fenway Park!! I will never forget when my grandparents brought my sister and I there for a ballgame when I was about 13. Cecil Fielder hit a homer to right-center in a Tigers win.
After embarrassing the Red Sox on Monday, the Rangers broke out their brooms at Fenway. Then it was on to Detroit. Runs, runs, runs for those Rangers. Looking forward to how they handle Verlander tonight (unless last night's rain out impacts the rotation).
I am a huge Roy Halladay fan (and not just because I get to watch him regularly here in Philly), but anyone paying attention would agree: Justin Verlander is the best pitcher in the game. Despite a rocky ninth inning on Monday, he managed to get the complete game win on 131 pitches. Four of his final five pitches hit 100 mph.
I'm not surprised Ozzie Guillen found controversy and headlines in Miami, I'm just surprised the situation blew up so early in the year. I had expected them to get off to a hot start, only to be derailed some time after the All-Star break. It's just been a few days since he's been back with the team, but they're playing well. So far, it doesn't look like the players are too distracted by what we can assume is a very vocal group of Cuban ex-pats shouting their displeasure. The cacophony should continue through most of the season, so we'll see how the team handles it.
Tip your cap to Jamie Moyer, who became the oldest pitcher in league history to win a game at age 49. He signed a minor league deal in the off season, a year after Tommy John surgery, and asked for 20 innings on the mound in spring training to fight for a roster spot. Not just on the roster, he earned a spot in the big league rotation and won his start on Tuesday. If he can hold on a few more years, he may be able to pitch against his own son, a college freshman this year. Unlikely, but I wouldn't put it past the guy. I heard him on NPR explaining that his most effective strategy is using the hitter's ego against him. Priceless!!
Congrats on a great career, Pudge. I hope your numbers can stand up to the PED scrutiny they're sure to get in five years when you're eligible for the Hall of Fame. From Jayson Stark: "Our favorite Ivan Rodriguez tidbit, from ESPN Stats & Info's Jeremy Lundblad: All active catchers in baseball combined have won nine Gold Gloves. Meanwhile, Gold Gloves won by Pudge all by himself: 13." Impressive, to be sure. Too bad the surprisingly credible Jose Canseco fingered him on the 'roids.
- Morning Brewer
PS (Pairing Suggestion):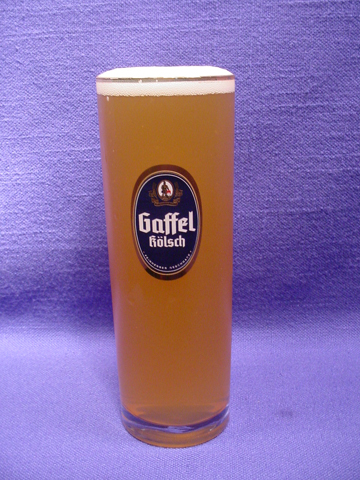 Gaffel Kölsch in it's natural
habitat: the Stange
So, Bremen is not very close to Cologne, Germany, but the Dead didn't play there in 1972, so I'm taking liberties. Cologne (Köln) is home to a very interesting style of beer (one of my favorites), the
Kölsch
****, the demonym for all things and people from the region of Cologne. A true Kölsch is brewed at one of 20 or so breweries in the region, and it is typified by its clear golden-blonde hue, high carbonation, white billowy head, and crisp, dry finish. Light malts are featured along with more hops than many European beers (though not many by modern American craft standards), and a particular ale yeast provides some mild fruity characteristics. Overall, however, the Kölsch has a very clean profile, owing to the cool fermentation temperatures and cold-aging (lagering) that make this a "hybrid" style. This is a refreshing, low alcohol (by modern American craft standards) beer meant to be enjoyed amongst friends and in large quantities over an extended period of time. See why it's a favorite?!?!
Two modern Köbesses serving Kölsch at the pub.
In its native environment, Kölsch is typically served in a pub associated with or attached to the brewery where it was produced. The servers at the pub, called Köbesses, are typically male and have traditionally worn a blue knit waistcoat, a blue linen apron, and a leather money pouch worn like a fanny-pack. Kölsch is properly served in a thin-walled, cylindrical glass called a "Stange" that holds just 200-mL of beer. Since you'll probably enjoy several while at the pub, the server marks each customer's coaster with a notch for each beer ordered.
Through the Middle Ages, the brewers of Cologne formed guilds to gain some measure of political power in the face of their two sources of taxes: the King and the Pope. Closer to a manufacturers' association than a labor union, the guilds had economic, religious, and community functions all involving beer. The various iterations of the guilds maintained their presence through centuries' of the ebbs and flows of dominance in their region between the Germans, the French, and the religious powers that be to represent the brewers' interests in the grain and hops markets, regulation and taxation, and their consumer market, ensuring quality products at a fair price. In turn, this benefitted the farmers producing barley and hops, as well as the consumers and citizens, as the brewers understood that holidays and festivals were for the drinker, not the brewer! Following World War I, the immediate precursor to the current style began to emerge through industrial technology, taxation, grain restrictions, and economic depression under the Third Reichthe. After WWII, the guilds established the Kölsch style as their very own. In the global age, the Association of Cologne Breweries (alongside the Cologne Brewers Corporation) asserted
exclusive
ownership of the style by signing the 1986 Kölsch Konvention. Today, no brewer outside of the region can legally market a beer under the name of Kölsch, and none of the regional brewers can add descriptors such as "premium," "special," etc. to any of their Kölsch products.
I suggest you seek out a
real
Kösch to enjoy this show with an authentic and unique German taste. In and around Cologne, of course, you'll have plenty of options, but in the States your options are limited primarily to
Gaffel
and
Reissdorf
. (American copycats struggle to get it right, and tend to properly fall into the American blonde ale category discussed at the end of a previous
post
.) Pair your authentic Kölsch with the classic pub cuisine of the region like
bierzupp
(it's just what it sounds like),
jestuvte murre met brodwoosch
(braised carrots with bratwurst), the gourmet Kölsch caviar (actually fried blood sausage crumbs), or leading up to Lent, try the buttery, rich, almond-infused
Muuzemandeln
cookies. Delicious.
Zum Wohl
!!
---------------------------------
*
I agree with Blair Jackson in the liner notes that this is the hotter version of the two, but I can't call it a highlight if they took to shots at it!!
** Bob Weir's solo album
Ace,
which was recorded with the entire band backing Bobby on songs he wrote along with either Robert Hunter or John Perry Barlow, also included a version of "Playin'."
Ace
was released the same month as
Rolling Thunder
, while the Dead were touring Europe.
*** The allusion, of course, is to Jesus's Sermon on the Mount.
**** Information in this section comes primarily from Eric Warner's wonderful addition to the Classic Beer Style Series,
Kölsch
.